The Difficulty Of Falling In Love

CALL 0904 007 0047
(Call cost 45p per minute + network access charges apply)
How To Make Your Relationship A Success from 45p
Falling in love usually takes us by surprise. Cupid's arrow can strike at any time and we will not necessarily be expecting it. Sometimes this love is simple. Both people in the relationship feel the same way, and there is no one else involved. They are open and honest with their feelings about each other, date, and eventually marry. However, life is often a little more complex than this. The difficulty of falling in love is that true love is often a very scary thing. This is particularly the case if the love if of the twin-flame variety, which involves a lot of karma. Then love becomes a terrifying prospect.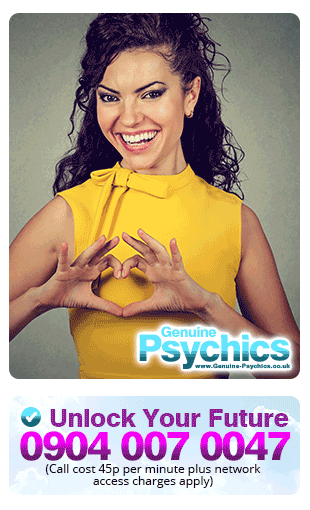 It is possible to discover how to make your relationship a success by consulting the tarot cards. A skilled tarot reader will be able to interpret a spread to discover where the hidden fears and blocks are to the relationship. These fears and blocks are not necessarily just with your partner. They can also be with you. Hidden means unconscious, and you may have unconscious blocks to enjoying a loving relationship. A tarot reader will be able to excavate these so you can look at them and heal them. This is how love readings work. Nobody is really unlucky in love, or unlovable, no matter how strongly we may believe that this is so. Lovability does not depend on the way we look, how much money we have, or our sense of humour. It does not depend on how popular we are, what car we drive, or what we do for a living. It depends on one thing and one thing only, how much we love ourselves.
If you truly love yourself, then you become lovable to others. You exude a radiance that others pick up on, no matter what your dress-size or how good your skin is. When you love yourself, the whole world agrees with you. When you hate yourself, you will find the world agreeing with you there as well. A tarot reading will show you how to make your relationship a success by showing you the areas in which you don't love yourself enough. It will show you where you are rejecting yourself, and where you are beating-up on yourself. If will also show you if you are holding love at bay as you are secretly scared of it.
Twin-flame relationships are the hardest to navigate as each person is one half of the whole flame in spirit. This will be immediately picked up on and recognised by both souls. But in the world's terms, this can be a very confusing thing to go through. Both people will be strongly drawn to the other but there is often no real relationship there. It is often difficult to get communication started in the first place. Once dating does begin, then the twin-flame runner dynamic will inevitably unfold. One person, (usually the man) will suddenly disappear, leaving the other person heart-broken. A tarot reading will be able to highlight all the hidden areas of spiritual dynamic in order to steer the relationship to a safe landing.
How Love Readings Work

CALL 0904 007 0047
(Call cost 45p per minute + network access charges apply)
5 Star UK Psychic Text Answer Service
Text Your Question To An Expert Reader Below : Receive Indepth Answers
Ruth
Psychic Tarot
07441 910 197
North
I am a gifted and natural tarot and psychic reader with over 10 years worth of experience, reading professionally for people from all over the world.
Peter
Psychic Clairvoyant
07441 910 383
London
I am a Clairvoyant Psychic. I am available to offer you insight into your present, past and future with a gift that has been mine since a very young age.